Homeschool curriculum resources for Afrikaans second language (additional language) learners.
When learning a Afrikaans second language, students need to speak, write, read and listen to the language being learned.
Below are Afrikaans second language resources that will help you to give your students these four types of language experiences.
We suggest that in addition to classroom workbook activities that you also select good Afrikaans literature to read aloud together, as this will increase the database of grammatically correct and sophisticated Afrikaans language patterns in your children's brains, which in turn will better enable them to produce similar language patterns of their own!
AFRIKAANS SECOND LANGUAGE TEXT BOOKS

The Afrikaans Sonder Grense series of text books have been designed for classroom use in SA schools. However, you may find them a useful option to use as a guide for Afrikaans Second Language homeschooling, along with the workbooks, readers and read alouds which follow below.

…

…

…

 Afrikaans Handbook and Study Guide
Since this guide to Afrikaans grammar will be used from senior primary through to high school, it is a worthwhile investment.
English/Afrikaans Dictionary
A good bilingual dictionary is an essential Afrikaans second language resource.
WORKBOOKS AND READERS
Afrikaans Second Language Resources – click here to request prices of the products in this section.
We recommend using a combination of the two products below during each grade of this phase, as each one alone would probably take about 6 months to complete. They are good complements to each other and will re-inforce your children's Afrikaans language skills before you move on to the next level in each series.
Leer Afrikaans Lag-Lag Workbooks
This series of workbooks offers great value for little money!
They include comprehension exercises, grammar instruction and drill, ideas for orals and creative writing activities, spelling, dictation, vocabulary activities as well as fun activities such as coloring, crosswords and more! There are also regular revision tests.
Helpful hints are also provided in English along with the Afrikaans instructions to help second language learners to help themselves!
Schedule about 2 pages a day and your children will make good progress.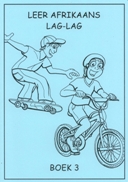 …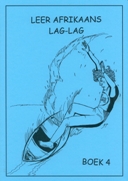 …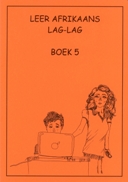 Ant Books – Workbooks and Readers
For this age level, your children could progress through levels 1-3 of the Ant Book series. Each level consists of two yellow workbooks plus four green colored readers for each workbook, making a total of eight readers.
Each reader is a 12 page booklet which will increase vocabulary, improve word-order, confidence, competence, pronunciation and comprehension skills.There is a dictionary page to start and questions at the end of each book.
The workbooks, based on each set of readers, are designed to develop comprehension, Afrikaans grammar, vocabulary extension, phonics, spelling, written expression …virtually every aspect of written language. They include plenty of repetition and practice as well as fun activities such as crossword puzzles, word searches and more.
VLAK 1 (aimed at Grade 4 second language Afrikaans learners)
The readers have up to 25 words per page in the present tense. The stories are about Stoute Neels at home.
VLAK 2 (aimed at Grade 5 second language Afrikaans learners)
There are up to 35 words per page in the present tense. The stories are about Stoute Neels on the farm.
VLAK 3 (aimed at Grade 6 second language Afrikaans learners)
Readers have up to 50 words per page in the present tense. The stories are about an irritating aunty, Tannie Miems, who comes to stay!

…

…

…

There are also two orange supplementary A4 workbooks for levels 1 & 2 and one for level 3.

…

PRICES:
Download the
Pricelist
for the above workbooks and readers from SA Homeschool Suppliers.
READERS
.

Speurder Annika Maak 'n Plan
This book has 64 pages which can be read slowly over a few weeks. Use it at an instructional level, not expecting fluency or full understanding.

Bessie Hemelbesem en die Skat van Smokkelaarsbaai
Another book to read through slowly, looking up words and understanding contemporary Afrikaans.
READ ALOUDS
…
…
…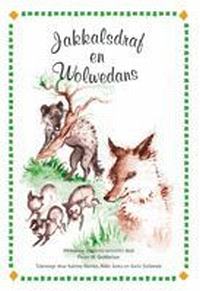 Jakals Dans en Wolwedans
Timeless fables in Afrikaans for younger children to listen to or for older children to read aloud.

Die Avonture van Magrietjie Swaaiboude
The most delightful story to read aloud. Based on the true story of Phillip, a man who lives in George, and his dog Magrietjie and his cockatiel, Samuel. We took almost a year to go through this as a lot of time was needed translating for the children.

Die Geheime Bestanddeel van Petra Pienk se Piesangbrood
A fun read aloud, that boys too will enjoy!

Trompie
Do you remember him from TV when you were younger? His 'kattekwaad' is still endearing, even though as parents we now know that some of his antics are pure disobedience! Still a fun read aloud for boys and girls!
---
Share Your Grade 4-6
Afrikaans Second Language Resources
If you have read Afrikaans stories that are suitable for this age group, found stories on CD, movies or any other useful resources for learning or teaching Afrikaans second language, please use the form below to tell us and others about them.
Reviews that are too short might not be published, so please try and describe the product or programme in about 250-300 words or more.
MORE PAGES WITH AFRIKAANS RESOURCES
Afrikaans Second Language Resources
Grade 7-8 Afrikaans 2nd Language Resources
Grade 9-12 Afrikaans Additional Language Resources
Afrikaans Language Programmes
Afrikaans Children's Books
Afrikaans High School Homeschooling