This is a list of Afrikaans language programs and resources used by homeschooling families with brief descriptions of each and contact forms for your ordering enquiries.
Prices were correct at the time of publication, but please confirm prices when you contact the supplier concerned.

You might also be interested in our reviews of Afrikaans Children's Books and testimonies of how our clients use Footprints in Afrikaans



KLEINPILGRIM
Grade 2+

This is a very thorough course, designed as a reading and writing program for 1st language students. Bible themes are stressed throughout. The course comes on CD, so you must carry the printing costs.

R120

A Marais
0722463503






LEER AFRIKAANS LAG LAG
This series of workbooks have been designed for second language learners from Grade 3 upwards for primary school aged children. There are five books in the series.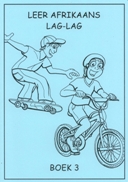 ...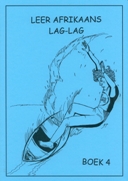 ...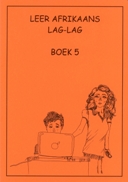 They are consumable but are extremely well priced and offer great value for money.
They include line drawings accompany engaging and relevant activities in a crisp, clear format. Instructions are given in Afrikaans, but where needed English translations are given in brackets to help the learner.
Although some of the content, such as sports days, school camps and classroom situations are geared towards school-going children, homeschoolers will still enjoy the multi-cultural 21st century child-oriented content.
ANT BOOKS
This series of workbooks and readers are ideal for second language learners from Grade 3-7.

Each level includes two workbooks plus eight 12 page readers on which the workbooks are based.




...

...

...

There are also two orange supplementary A4 workbooks for levels 1 & 2 and one for level 3.



...

Together they will extend vocabulary, improve word-order, phonics, spelling, writing, pronunciation and comprehension skills as well as develop your child's confidence in Afrikaans.
The workbooks also include plenty of repetition and practice as well as fun activities such as crossword puzzles, word searches and more.
ONS LEEF AFRIKAANS
This Afrikaans Language Program has been created for Afrikaans mother tongue homeschoolers.
"ONS LEEF AFRIKAANS is kreatief, maklik om te volg en alle antwoorde is beskikbaar vir die ouer. Dit gaan om veel meer as net taalwerk en skrif. Die taalwerkdeel van die program is daarop ingestel om die kind te help om die lewe om hom en in hom te interpreteer. Dit wil hom verder help om beter te kommunikeer, en betekenis te gee aan dit wat hy beleef. Jou kind leer om die taal wat hy reeds deur die hoor daarvan bemeester het, ook te kan lees en skryf.
My medeskrywer is my pa, Dr HF de Bruto, afgetrede professor in Afrikaans-Nederlands. (Dit is nou om diegene gerus te stel wat wonder of dit alles akademies korrek is.)
Daar is
'n ouerhandleiding saam met elke les, reeds uitgewerk en uiteengesit vir elke dag. Al voorbereiding vir jou as ouer is om gom, kleurpotlode, ens. byderhand te hou.
'n kinderwerkboek propvol prentjies om in te kleur en uit te knip, handskrifoefeninge, stories, gedigte en vele meer kreatiewe projekte
25 leesboekies wat in die lesplanne gebruik word
vokaal-, konsonant-, alfabet-, hoofletter- en kykwoordkaartjies
13 houtblokkies met die letterstekens van lang en kort vokale, en konsonante daarop (wat gebruik word in spelspeletjies)
'n video wat kortliks verduidelik hoe die program werk"
R1200
Kontak Lourieke Haller


Top of Afrikaans Language Programs
AFRIKAANS HANDBOOK & STUDY GUIDE

For Senior Primary and High School Students, this handbook is invaluable as a reference as well as for moms who are wanting to have all the Afrikaans rules in one place.





ADATA
(A Different Approach To Afrikaans)

Grade 3+

This programme uses Aesop's fables as the basis for each lesson, which includes dictation, grammar, comprehension and more.The manual is written in both English and Afrikaans so that a parent with minimal Afrikaans background can use it.

R200

Kathy or Sonja







WWW.AFRIKAANS.US
Highschool grades
This is a website designed to teach Afrikaans to second language learners.
"The resources on the site are extensive. They include numerous sound files, carefully selected links, and discussion groups where Afrikaans speaking volunteers from around the world answer questions and provide comment. The teaching approach is thoroughly conventional and businesslike, and seems most appropriate for high school students. It does not use language laboratory techniques or playful learning.
As would be expected from a course originally intended mostly to prepare missionaries for field work, it is strongly slanted towards speaking the language, correct pronunciation and practical use, but it does contain some literature as well.
A particularly attractive feature of the site is that the facilities are free." (Leendert van Oostrum, Pestalozzi Trust for homeschool legal defence.)
The content developer, Dr. Jacques du Plessis, has over 20 years of experience teaching Afrikaans as a foreign language. His expertise in language teaching and technology offers you innovation with technology to facilitate your quest to learn the Afrikaans language.
Read more at www.afrikaans.us
Top of Afrikaans Language Programs
Afrikaans Language
l
Home
l
Homeschool Events
l
Contact
l
Footprints FAQ's
l
Free Homeschool Curricula
l
Free Printables
l
Highschool
l
Articles
l
Free Ezine
l
Home school Help
l
Maths Programs
l
English Language Programs
l
Little Footprints (age 4-8)
l
Footprints (age 7-12)
l
Preschool (age 3-6)
l
About Footprints
l
South African Children's Lit. Booklists
l
About Us
l