Footprints on Our Land – South African Homeschool Curriculum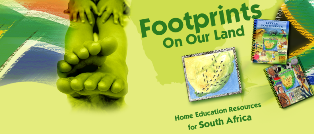 Footprints on Our Land is a literature-based South African homeschool curriculum series in unit study format for multi-level learning

UNIQUE SOUTH AFRICAN RESOURCES
Are you burning out trying to keep up with the demands of a school-at-home programme?
Are you and your children reading too many stories about Thanksgiving, baseball, bears and snow at Christmas and missing out on literature that has a local flavour?
After homeschooling our own children for about six years, using excellent imported materials, we found that their knowledge of their own heritage and environment was lacking and so Footprints On Our Land was created to fill this need for a homegrown South African homeschool curriculum.
Our vision was to create a South African homeschool curriculum that would help our children become proud citizens of South Africa, that would help them to understand and appreciate the good in our country as well as its problems, and that would encourage them to play a role in building a bright future for our nation.
"Search in your past for what is good and beautiful. Build your future from there."
(President Paul Kruger)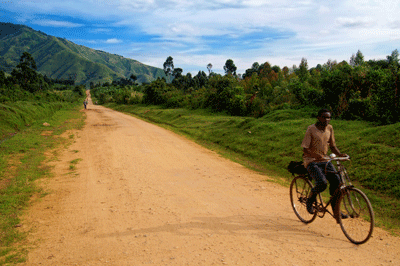 DESIGNED TO SIMPLIFY YOUR LIFE
A South African homeschool consultant reported that 87% of the 8 000 families she has counselled are trying to replicate school at home and are suffering from frustration, boredom and burn-out. The other 13% have found more creative ways to educate their children and are having a significant impact on their communities.
Our Footprints programmes will allow you to be part of the 13% who are enjoying their homeschooling experience without trying to follow the teacher + text book + classroom model, with all its limitations! By means of the student guide, we will guide you into delight-directed learning that is more suitable for the home education scenario.
In contrast with many other curriculum suppliers, we, the creators and authors of Footprints, are two homeschooling mothers who know the ups and downs in the life of a homeschooling family.
We have four and six children respectively, ranging in age from teens to toddlers and we relate to the many responsibilities and pressures that a homeschooling mom faces as a spouse, mother, home organizer, teacher, taxi-driver, life-coach, friend and all the other 'hats' we moms must wear in our busy, multi-faceted lives.
This is why our South African homeschool curriculum programmes are created to SAVE YOU TIME and ENERGY, simplify your life, build your confidence and minimize the stress associated with educating your children at home…and we don't just sell you the books and then leave you to get on with the programme.
We offer after-sales support.
"It may seem most odd to be living in the UK doing a South African homeschool curriculum, but I really do believe that God wants us to embrace our culture and our heritage as a reflection of who He is, and this enables us to do this so well. So, thank you! (Kerry, United Kingdom)
Top of South African homeschool curriculum
THE BENEFITS OF A FOOTPRINTS CURRICULUM
1. Children love stories: Our clients tell us repeatedly how much their children love the stories in our South African homeschool curriculum and that they don't want to stop reading them.
"I am so THRILLED to see my son excited about BOOKS."
(Colleen, Komga, Eastern Cape)
Unlike text books which have factual information in snippets that children usually find dry and uninteresting, our stories are exciting AND educational. What a winning combination!
Rather than just reading facts about personalities like Jan van Riebeeck, Shaka Zulu or Nelson Mandela, our children get to know about the lives of these pertinent people through the eyes of characters who lived with them in our historical fiction, through the biographies and with supplementary information supplied via the fascinating reference books included in the curriculum packages.
Too many South African families are struggling with school-at-home type curriculums which are stressful, monotonous and take the JOY out of learning together as a family. Footprints is everything BUT school-at home!
2. Footprints keeps moms calm and promotes the building of good sibling relationships and family bonds through multi-level learning. Children of various ages can all learn together from the same lessons, making a mother's life simpler and keeping the family together.
3. Footprints saves you money, time and a lot of frustration. Since all the preparation, planning and sourcing of relevant books has been done for you, you will have everything you need, when you need it. You don't first have to gather resources from the library, the craft store, the pharmacy and the butcher to be able to do your lessons. Our lessons are based on stories plus items you would have in your own or easily find on your next round at the supermarket!
"It has been a special journey for us as a family as it has been the start of our homeschooling journey as well. I have to share with you something which I have been aware of ever since we started with Footprints which was October last year.
Life IS sometimes stressed and pressurized, but I was always aware, whenever I bent down to find the Footprints manual and the current book we were busy with, of a strange feeling of peace. Maybe it was due to the relief that we would now all be working with material that we all enjoy and derive pleasure from.
I like to think that it is also due to the prayer that has gone into the Footprints program and the fact that you both walk closely with God. It has been a special experience; the heroes and heroines and families have become our friends; we identified very strongly with many of them." (Pam, Sedgefield)
4. Footprints saves you delivery time. No more waiting for months for your homeschool curriculum to be shipped from abroad. We are local, but we do ship overseas too.
5. You can pay in South African rands, not dollars.
6. After-sales support is available via our Footprints egroup and an exclusive Facebook group for our clients. When you have ordered your South African homeschool curriculum package, we will email you details about how to subscribe and join the Footprints online community.
Top of South African homeschool curriculum
SUPPORTING FOOTPRINTS FAMILIES
We are always available to walk your through your Footprints journey. We have both been homeschooling for over 15 years, so we know what you are likely to be experiencing, both the ups and the downs! We use our Footprints egroup and the Footprints Facebook group to offer after-sales support, to share ideas, new resources and encouragement. Here you can also meet other Footprints families and be a part of the online Footprints community.
Since we first launched our South African homeschool curriculum series in 2003, we have served hundreds of families and our reputation as a supplier of uniquely South African resources is growing. Already we have expatriate South African families in over 15 countries abroad using our various products.
Use these links to read more or order the South African homeschool curriculum that is appropriate for the age group of your children.