Literature Based Curriculum


This best-selling literature based curriculum is centred around South African historical fiction, aimed at children between ages 7-14. It is best suited for ages 9-14 but families with children of 7 & 8 years will be able to accommodate them and include them in this multi-level unit study.
It begins in 1488 when Bartholomeu Dias rounded the Cape, which was inhabited by the Khoi-san people, and continues through time, ending in the early 1900's just after the South African War.
By reading the story books included in this programme, your children will get to know historical characters like Van Riebeeck, Van der Stel, Mzilikazi, Shaka, Rhodes, Kruger and others who played a role in shaping South Africa's colourful past. Instead of reading facts and dates so typical of history text books, they will discover the facts about our country's history through the eyes of the characters in the readers. Our nation's history will come alive through the stories!
Footprints On Our Land – South Africa's Heritage is NOT just a history curriculum, however. Being a unit study, the lesson plans are built around the children's literature which is included and in this way other subjects are also covered namely: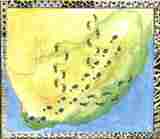 The updated edition of 2014 includes additional information, updated outings, maps and diagrams! Click on the images below for an enlarged view.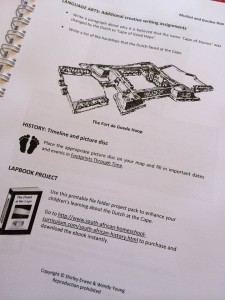 ---
Footprints On Our Land – sample lesson You will need Adobe Reader (the latest version is recommended) installed on your computer in order to open and read this sample lesson. You can get Adobe Reader here (a new window will open so you can download without leaving this page).
Order Footprints literature based curriculum
THE PACKAGE
We have carefully chosen more than 25 books in this literature based curriculum, that will ignite your children's thought environment and enrich them in knowledge and character.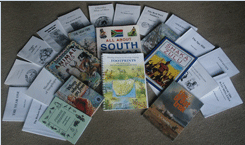 As many of the books are out of print, we supply specially reprinted copies to you in a package form, so that you need not hunt in second hand bookshops or wait endlessly for inter-library loans.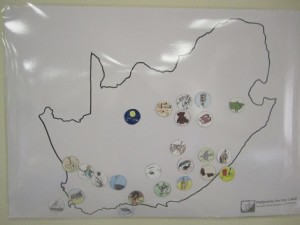 A comprehensive Curriculum Guide, four non-fiction books, a unique South African timeline book and a large laminated map of the outline of South Africa are also included to give you a well-rounded programme. A picture disc representing each story is supplied that can be placed on the map, giving your children a visual reminder of each story and its geographical setting.
Order Footprints literature based curriculum

ADDITIONAL BOOKS
The essential books are supplied in the Footprints package, but there is also an extensive list of books that you can add to your daily reading. These books are generally still in print or available at libraries and we sell many of them as well. In the Curriculum Guide there are also suggestions of related books for older and younger students.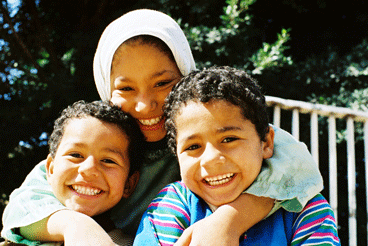 Order Footprints literature based curriculum
THE CURRICULUM GUIDE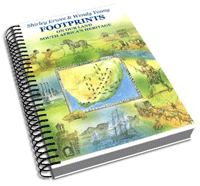 At the beginning of each lesson in this literature based curriculum there is:
a summary of the story
suggestions of possible field trips,
relevent internet websites, and
titles of additional reading material
Since forward planning is needed for some hands-on activities, a lesson plan at a glance, is provided to facilitate this.
One parent said the following about our guide:
"I especially am very appreciative of all the effort and extras you have put into the manual. You have it all there for me. For example, just yesterday I was wondering how I could make a melktert – and then I found your recipe! Again, when we did one of the books, it talked about baking bread. My son had asked me what yeast was and hey presto, there was your answer, complete with an easy, child friendly method to make bread AND experiments! Perfect!!" (Kerry, United Kingdom)
Order Footprints literature based curriculum
LANGUAGE ARTS
A Charlotte Mason-style
language program, based on the natural way of acquiring language skills, is included. Narration is the main tool for developing language arts skills but copy work, recitation, dictation, spelling and creative writing are used as well.
The language arts assignments are suggested for you in the Curriculum Guide. Charlotte Mason's way of using gentle and age-appropriate methods to help your children become great thinkers and users of the English language are encouraged.
Footprints Heritage Program now has a full grammar and word study program to go along with the readers and read alouds, thus being relevant to what your child is reading about in each book. These lessons are supplied on two levels, beginner and advanced. This is an optional add-on which you can puchase in digital format.
Click here to download some random Sample Pages from Footprints Grammar Programme
WHAT ELSE SHOULD I KNOW?
You will be able to fit the lessons into a 9 month school year should you wish to make this a one year study only. However, it could take up to two school years to work through in its entirety. We feel that to gain the most benefit from all the books and lessons that it should rather be studied over an 18 month to 2 year period.
You will need to add a maths program and if you have very science orientated children, we suggest you choose one of these excellent science programs to go along with Footprints.
We have found that parents have used the lesson plans to springboard other lessons or to dig deeper into topics that we raise in the manual. Should you try and run on a very tight 1 year schedule, you will certainly miss out on this wonderful opportunity to cater for your creative bent and your children's delight directed studies.
WORLDVIEW
This programme contains Bible lessons as the authors and most of our clients have a Christian worldview. However, families of other faiths, including Buddhists, Muslims and atheists have used it and enjoyed it. The Bible lessons mainly focus on moral lessons that almost all parents are comfortable with such as honouring parents, facing problems, overcoming fears, being kind to others. However, they can easily be omitted if you choose.
---
ORDERING FOOTPRINTS
Since nearly all the essential books for this programme are out of print, you are required to purchase this programme in package form.
Full Footprints Package R4 950 (excludes postage)
Prices are subject to change. Please confirm prices when you place your order.
Please use the order form below if you have any questions or would like to order Footprints On Our Land – South Africa's Heritage.
Once you have submitted the form, an auto-responder will email you the necessary ordering information and you will be able to correspond with us via email thereafter.
CONTACT FOOTPRINTS ON OUR LAND