The measure of your homeschooling should not be the capital letters behind your children's name one day, but rather the people of integrity and good character they have become.
Our ability to handle life's challenges is a measure of our strength of character.~ Les Brown
As home educating parents we are privileged to be standing by and witnessing our children's personal growth. We get to see many of their character weaknesses, which we might otherwise miss if our children were attending school in a classroom.
We see when they have bad attitudes or do sloppy work, we catch them out when they cheat or are unkind to a sibling. We notice when they are impatient or want to give up instead of persevering (with their long division). We can train them to be better organized (instead of being scatter-brained and losing their pencils every day).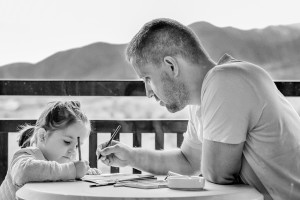 We are also able to encourage them and reinforce their good character points. We train them to be responsible by expecting them to tidy their rooms, take care of their belongings and to do chores to serve the family. We can praise them when they have worked with excellence, been kind to a sibling or persevered in the face of a challenge.
There is also much we can also teach them by example – to be humble in our weaknesses (which homeschooling quickly reveals), to be committed, to be able to admit our faults and apologise when we blow it, to be consistent and reliable etc.
Knowledge can easily be acquired, but good character traits have to be developed and it's a slow process, usually developed by much inter-personal friction!
Character cannot be developed in ease and quiet. Only through experience of trial and suffering can the soul be strengthened, ambition inspired, and success achieved. ~Helen Keller
In the hum-drum of our day-to-day living, we are able to help our children develop these character traits, which are  more valuable than the lessons that are found in the pages of text books and more praiseworthy than degrees and academic accolades. It is this strength of character and integrity, which will help them to be successful adults, set them apart from others and equip them to be world-changers in their communities.
Intelligence plus character – that is the goal of true education. ~ Martin Luther King, Jr.