A GED® homeschool grade 12 equivalent* is a popular alternative to getting a matric online. It is a grade 12 equivalency* credential recognised in SA, accepted by universities.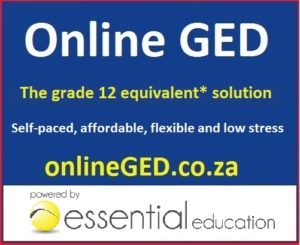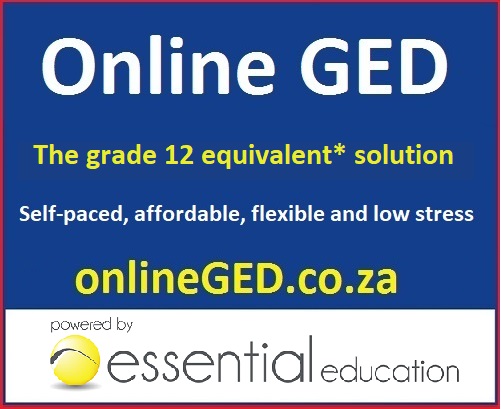 The GED® test series, which is currently used internationally, including SA, is a series of four subject tests.
The GED® is accepted at many tertiary institutions around the world.
*SAQA (the South African Qualifications Authority) has evaluated the GED® and found the  National Senior Certificate as its closest comparable qualification.
The GED® alone is usually adequate for candidates wanting to study at colleges – but always check first.
Those wishing to apply to study at university need a letter of foreign conditional exemption from USAf.
GED® graduates may apply to Universities South Africa (USAf) for a letter of foreign conditional exemption with their GED® credential, accompanied by a letter of admission to an appropriately accredited US university** or alternatively the required SAT score.
**See http://mb.usaf.ac.za/united-states-of-america/
There is no guarantee that a GED® graduate will be issued with a letter of foreign conditional exemption from USAf, nor that a university will accept his/her application.
PLEASE NOTE: You MUST check with the universities of your choice that they will accept these foreign qualifications. A matric with exemption or in this case a GED® plus a letter of foreign exemption is the minimum requirement for admission to a university. Faculties may set additional requirements for admission to their degree courses.
In response to an email enquiry about the GED® + foreign conditional exemption, Rhodes University stated: "Rhodes University will accept applications as set you below.  We have had many home schoolers apply and have been accepted as long as they meet the HESA requirements."
To date there are written replies from the following universities indicating that they will consider candidates with a GED®+foreign conditional exemption:
Wits
Rhodes
North-West University
Stellenbosch University
University of the Free State
University of Venda for Science and Technology
UNISA
Mangosuthu University of Technology
University of Pretoria
There is also a growing list of other tertiary institutions that have accepted candidates with a GED® credential plus foreign conditional exemption. Click to view the list.
The 2014 GED® tests four subjects.
Science
Mathematical Reasoning
Social Studies
Reasoning Through Language Arts
STEPS TO WRITE THE GED®
 1. SIGN UP FOR Online GED TUITION 
2. BOOK TESTS – you have to book and pay online
3. WRITE TESTS – tests are written on computer at a test centre on the date of your choice
4. APPLY FOR YOUR DIPLOMA AND TRANSCRIPT
5. APPLY TO A USA UNIVERSITY
When you receive your diploma, transcript and letter of admission, you do the last step:
6. APPLY  to USAf FOR A LETTER OF FOREIGN CONDITIONAL EXEMPTION –
This is only necessary if  you want to apply to a South African university

For all the details of how to go about preparing for, writing your GED® and applying for the necessary transcript and South African equivalent, you need to go to our sister site, http://onlineGED.co.za
Watch the GED® Webinar – its FREE!
To learn about costs, how to book, test dates and procedures in half an hour, view the GED® Webinar or you can spend hours sifting through the info online yourself. SAVE  YOURSELF TIME and get the practical tips about how to go about it in South Africa in the webinar.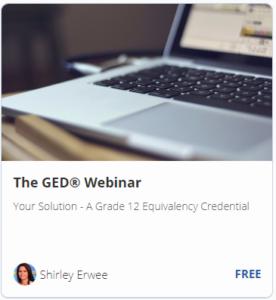 The GED® webinar will tell you all this and more:
What is the GED®?
How to study and prepare for the GED®
Where to find the 38 GED® test centres in South Africa.
The cost of the GED® – you will be pleasantly surprised!
Where do we write the GED® tests in South Africa?
How to go about booking the tests online
How to order a hard copy of the diploma from the USA
Inspiring GED® success stories and testimonies

ONLINE GED SOUTH AFRICA SUPPORT GROUP
Join the Online GED South Africa group on Facebook – click this link and request to join
SAT
What is the SAT?

The SAT is a globally recognized college admission test that enables students to show colleges what they know as well as how well they can apply that knowledge.
The SAT consists of three major sections:
Critical Reading
Mathematics
Writing
Each section receives a score on the scale of 200–800.
[In the USA there are also SAT Subject Tests which can be written for individual subjects. These are not required for South African matric purposes.]
Most students in the USA take the SAT during their grade 11 year and again during their grade 12 year of high school, to improve their scores and almost all colleges and universities in the USA use the SAT to make admission decisions.
The SAT is offered on average six times a year outside of the United States.
In South Africa it can be written at various centres, but not all the testing centres offer it on all dates:
The international test and registrations fees are $84.50 including an international processing fee (2017 prices)
 For more detailed information about the SAT, click here: SAT Homeschool Matric
---
*SAQA (the South African Qualifications Authority) has evaluated the GED® and found the  National Senior Certificate as its closest comparable qualification.
MORE PAGES RELATED TO GED HOMESCHOOL MATRIC
High School Homeschool South African Options
Cambridge International Examinations