New Homeschool Parents Resources
New homeschool parents resources is a list of book reviews locally available to help you in your first decisions and application of homeschooling life.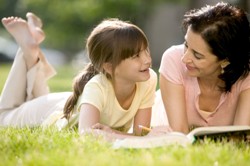 A Living Education -
A Handbook for South Africa Homeschoolers,
by Wendy Young

A Living Education was written to help answer the many questions of new homeschooling parents. It covers topics such as :
Why we homeschool,
The impact on our home,
The impact on our relationships,
Our priorities,
What about me?,
The big socialisation question,
Head, hand, heart,
Preschoolers,
Home Educating different grades,
Extra mural activities,
Home Education support groups,
Informal curricula choices,
High school...what now?
Taking children out of school,
When doubts come,
Our homeschool dad,
Planning and Scheduling,
My favourite books,
Types of home education curricula,
Home Education Associations,
Support on the internet.
This 120 page book takes you in a godly, very pleasant, honest and encouraging way through the whole process of considering, preparing and implementing home education. Both good and bad times are openly discussed and advice is given how to improve if one has to.
This book will not only inform you about what home education really is, but also to always have it at hand when doubt or uncertainty assails you. It is written in a way one can absolutely identify with and just that makes you feel at ease and confident again, that what you are doing is right and what the Lord expects you to do.
122 pages. To order contact Wendy

Be sure to take a look at our Parenting and Homeschool Book Reviews
At Study Skills For All Ages, you will be able to turn learning struggles into learning victories. Learn tips for more effective, efficient study skills including note taking, studying, mind mapping and eliminating test anxiety. Parents, find ways to get your child excited about school, even if they are currently struggling.



New homeschool parents resources l Home l Child Literature Lesson Plans l Afrikaans Language Programs l Contact l Homeschool FAQ's l Contact l Footprints FAQ's l Free Homeschool Curricula l Free Printables l Highschool l Articles l SA Homeschool Events l Free Ezine l Home school Help l Maths Programs l English Language Programs l Site Updates l Footprints (age 7-12) l Preschool (age 3-6) l About Footprints l South African Children's Lit. Booklists l About Us l Site Updates l Parenting and homeschool book reivews l