Homeschooling High School – Plotting Your Path
by Shirley Erwee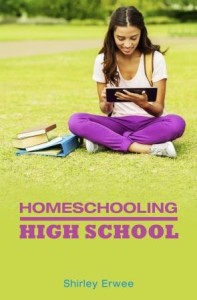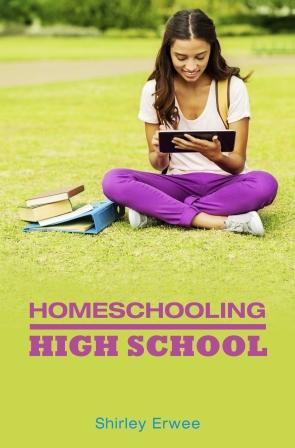 ISBN: 9781432303662
Format: Softcover
Released: August 2014
Pages: 168
Price: Out of Print
Buy the Ebook from Takealot.com or any other ebook vendor
Alternatively, sign up for Shirley's 6 part webinar series by the same title, Homeschooling High School
Will your education equip you for success in life?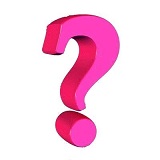 Homeschooling high school strikes fear into even the most dedicated homeschoolers! Those that are looking for an alternative to the mainstream school system need to find answers fast!
"How can I get a matric?"
"What's the difference between the NSC and IEB?"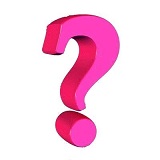 "Should we switch to Cambridge?
"What is the GED?"
"Where can I get past matric papers and a curriculum?"
The biggest concern may be, "Will my children be able to get into university or college?"
"What if my kid won't make it to university – what then?"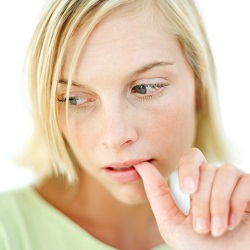 The unemployment rate is about 25%1 in South Africa and 15-34 year olds account for over 70% of  the unemployed. Fewer than 50% of current matriculants will hold jobs before the age of 24.
Labour market analyst Loane Sharp says that about 600 000 unemployed university graduates are forced to either rely on their families to support them or find jobs as unskilled workers, such as waiters, clerks and office assistants2.
With the current educational and unemployment crises in South Africa, many are looking for educational options to help them achieve their goals.
Besides exploring popular ways to get a recognised matric certificate outside the school system, Homeschooling High School challenges you to rethink your values and the value that society has put on certification and to consider some unconventional, alternative paths to success in the modern, fast-changing work milieu!
"…when teens choose to leave school, we respond with shame and doubt, as if leaving school is like throwing yourself off a cliff. In fact, it's just the first step in a new direction.

There is no single, perfect way to learn. There is no environment that is ideal for every learner. School is one very popular choice, but it is by no means the only one.

Leaving school is an acknowledgment of a dynamic that isn't working and a movement toward change. It's not an end, it's a beginning. Let's stop shaming people who choose to walk away from situations that are not working for them. Instead, let's support them with alternatives."

~ Catherine Gabron, Staying in School is Not as Crucial As You Might Think
Written for students, homeschooling parents or adults wishing to complete their high school education, this book will
give you all the information you need in one place to make navigating high school homeschooling easy.
save you hours of time you would need to sift through the minefield of rules and regulations and educational jargon on the websites of the various educational institutions that govern matric and higher education
explain the options and how to pursue each one: where to find curriculum suppliers, how to source text books, estimated costs, contact details, university admissions information and everything you need to help you plot the path ahead into the future.
show you ways to get a good education without getting back into the mainstream system
"We just want to say that your Homeschooling High School as been a tremendous help in walking out the homeschool journey.  It brought such clarity when one feels overwhelmed by all the possibilities and questions on how do we do this." ~ Karin H.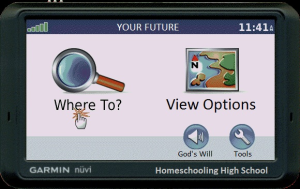 Education in the 21st century has long since moved on from the traditional text-book delivery system of the previous century. Young people need to be equipped to be skilled, flexible and able to adapt to the fast-changing world they will be living in as adults. Research shows that most adults change jobs / fields a number of times in their lifetimes!
With or without a matric certificate, you need essential information for self-directed life-long learning to survive and thrive in the modern economy of the Information Age!
Before you make a mistake and choose the wrong course of action, which could cost you thousands of rands and much stress and emotional turmoil, let Homeschooling High School show you the various options to Plot your Path to SUCCESS.
A relatively small investment of money and time spent investigating options now, could prevent costly and stressful mistakes, especially if you have to change courses at a later stage.
As an added bonus, it contains testimonies of real South African homeschool graduates who have achieved their goals in a variety of ways, proving that there is more than one path to career success!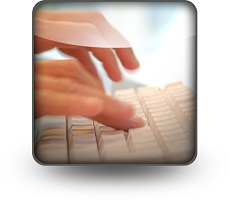 Look no further – everything you need to know about plotting your path through Homeschooling High School and beyond in South Africa could be at your fingertips.
or SIGN UP for Shirley's 6 part webinar series –
Buy  Homeschooling the Primary Years
REVIEWS

Review by The Association for Homeschooling
CUSTOMER COMMENTS

"A friend of mine lent her book "Homeschooling High School" to me and I just finished reading it. What a book! Every homeschooling-family needs to have a copy of this book, for future reference and to read again and again.

… It was very interesting to see all the other options for matric, starting a business and all the other info, I have been waiting for this book for two years!!

Can I order directly from you? If so, please send me your banking details.

Thank you for writing this book, it is a lifesaver!" ~Jeanine B.
I have just finished reading Shirley Erwee's "Homeschooling High School" and it is a fantastic resource!
It is very thorough, and makes the available options for high school easy to understand.
There are also contact details and estimated costs of the various choices which are very useful to have on hand.
I found it so helpful, it was well researched, thorough and easy to understand, a job well done! ~ Chirani Meyer

I have also just read it. It's brilliant… Oh how I wish I had this a year ago when I was starting out. Well done ~ Lorraine G.

I am half way through the book and can't stop talking about it. It is an excellent resource for homeschoolers and mainstream schoolers as it highlights the importance of thinking about what happens after school before thinking about high school. Love, love, love this book!
~ Tasniem Boltman

From a teen girl:

Hi Aunty Shirley, it's Jeanette here.

I've just read your book, Homeschooling High School, and want to thank you for writing it. As I read it, I experienced a general feeling of relief – it's okay if you don't want to go to university, it's good to be an entrepreneur, and there are people who skipped university and educated themselves and they are successful! It also made me excited about the future, about all the opportunities and possibilities in store.
Thank you very much! South African homeschoolers really needed a book like that; thank you for writing it. Thank you for giving a "road map" to those of us who want to go off the beaten track.

Hi Shirley . I have just finished reading your High School book & would like to thank you SO much for it. I cannot tell you how much it has helped me & put many of my fears to rest! My eldest is in Grade 8 this year & I have been in a state the whole year as I researched via internet ( not my favourite place!!) the options available for high school / school leavers etc. It was overwhelming & so scary, also because our finances are so limited. Your book has been a real answer to prayer.( & just SO much better than the internet!) Thank you so much! Warm regards Kate

 Just want to say, thanks for an amazing informative book! Hilja

I read this book in the proofing stage and already it was a book worth owning. How much more so now that it's been through a professional publishing company, Random Struik. It offers information on numerous ways to homeschool high school and how to obtain different types of accreditation that accommodates university entrance requirements. It also explores unschooling for high school and what that may look like. I recommend this book for all parents who have ever thought, asked or been asked 'what about high school?' Taryn Hayes

Hi Shirley!
I hope you are all well?
I want to send some encouragement your way…
Jeanette had to make a list of 25 books that changed her life. Homeschooling High School is on the list:
"The stories of homeschooling matriculants changed my ideas for the future and encouraged me to pursue my own path, be it far from the beaten track."
THANK YOU for all you put into that book… it changed a life!
We're all thumbs up for your book. Your research saved us much time and foot work.
Her list was a creative expression assignment in Sonlight' s Survey of British Literature. It had to be books that changed your life/outlook, as opposed to just great reads.
As her mentor, I was encouraged to see how many of her school books, both from Sonlight and Footprints, made the list!!! Truly LIVING BOOKS alongside the Bible.

Much love, Lida van As
Here is another homeschooling mother's Review of Homeschooling High School
---
[1] http://www.statssa.gov.za/keyindicators/keyindicators.asp, retrieved 17/05/2013
[2] http://www.citypress.co.za/news/young-jobless-and-desperate-degrees-with-no-guarantees-20120616/, retrieved 02/06/2013