A high-flying homeschooler has not only won numerous national kite surfing titles, appeared on TV on numerous occasions, but also earned distinctions at university – and that, without a formal matric certificate!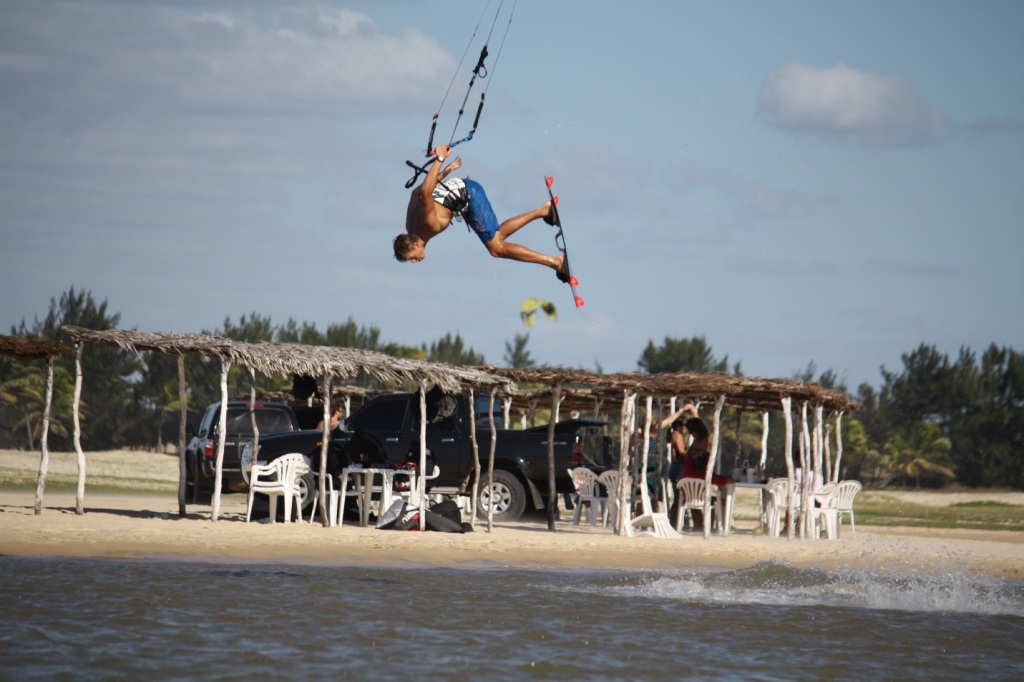 Colin Heckroodt, now 23 (in 2015), started homeschooling when he was 11 years old. His parents took him and his sister out of public school at the beginning of his second term in grade 5, after God clearly convicted them of their responsibility as parents, to train up and educate their children.
When Colin was about 14 years old, his dad, who had been a keen surfer and windsurfer for many years, started kitesurfing. As soon as he, Johan, was up and going, and through the learning curve, he started showing Colin the ropes (literally!), and before long Colin was up and on his way too. He soon entered his first competition in Strand, and won the novice section. Not long after this event, he was approached by his first sponsor, and started training more intensively, entering all the various competitions held throughout SA.
Initially, Colin competed in racing and slalom only, but subsequently focused on the other 2 disciplines in kitesurfing, namely freestyle (the high complicated tricks), and wave-riding. At the age of 16 Colin's dad decided to send him to Mauritius for a month, in order to train during the SA off ( winter) season. It was Colin's first overseas trip, and that on his own.
He recalls feeling very lonely and strange the night he arrived, but as soon as the sun was out the next day, he embraced this golden opportunity to the full. He had little leisure time though. He took his Science and Maths books with him and continued his studies in the morning (so he told his parents), and training/kiting most afternoons. He had an incredible time, meeting diverse people from all over the world, including a wonderful community of locals. It proved to be a very rewarding experience, sports-wise, as well as experience and growth-wise. He occasionally attended a local church connected to an ACE school and was even asked to address the youth on a few occasions, as he was (and still is) an avid Creation Science proponent.
Colin's freestyle especially, improved drastically as a result of this trip, and it gave him the necessary edge to do increasingly and consistently well in local competitions. He continued the winter training for the next 3 years, twice in Mauritius, and once in Brazil, for 2 and 3 months respectively, studying while he did so.
Following his 3 months in Brazil, Colin performed extremely well, and his first SA Championship was in sight. Before the final and determining competition of 2010/11 season, huge disappointment struck, when upon landing a complicated, high-air trick, Colin tore his ACL (Anterior cruciate ligament). It took a few weeks to determine the exact nature and extent of the injury. It was decided that he should have an op, but there was still one competition in the SA series left. The only way Colin would be able to win the SA title, would be if there was no wind during the last competition of the SA Pro series. Miraculously, there WAS no wind over that particular weekend, and Colin won his first SA title – in all 3 disciplines.
He had the op as soon as season was over, and could compete again the following year. However, as a result of the weakened knee, his hopes of competing overseas were unmet, plus he tore the same ACL a second time, which rendered him unable to pursue his freestyle with full force. In the meantime Colin won various other titles, including the 2011 Maputo Open in Mozambique, 2011 Canon Rocks Open in Eastern Cape, various Racing Series in CT, the 2012 Langebaan Downwind Dash, a grueling 300+ contestant, 18km race from Langebaan to Saldanha and others. As a result, he has appeared on various television shows and interviews including SABC's Hectic 99, Supersport, XLTV, Expreso Live, and various other video productions for internet use.
Cornerstone Institute used him to promote their university. Click here to view this spectacular  clip of Colin kite-surfing and talking about his dreams on YouTube. He was chosen as Wind Energy Ambassador for the Global Wind Day 2013, where he addressed the youth, together with the Minister of Energy Affairs. He was also awarded official Western Province colors by the South African Sailing Association, at the end 2014. Colin is currently focusing on the Wave-riding discipline in more earnestness, and has just recently received a second place in the third and penultimate 2015 SA Pro Series.
However, his studies have been his primary focus of attention the last two years. After completing a 2 year Business Diploma at Cornerstone University, Colin enrolled for Mechatronic Engineering at Unisa, and has just completed his first year.
Having gone the Highschool Transcript (credits and GPA) route, together with a comprehensive portfolio of work done, using an eclectic curriculum, Colin was only required to do bridging Physics and Maths. He did so well in his Physics exam that he was, upon his dad's request to dean of faculty, exempted from having to do the bridging Maths. He loves his studies, and was overjoyed to pass his first year with distinction in 8 of his subjects. Colin himself would tell you though, that he values and treasures his relationship with God and pursuit of the truth, above all else and any accomplishments!
Back to Homeschool Success Stories