Download a printable page with scriptures and daily prayers for home educators to encourage you to intercede for educational freedom to prevail.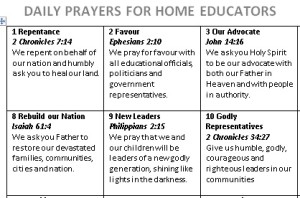 In South Africa legislation regarding home education is currently under review and it is expected to be revised at some time in the near future.
Representatives from the homeschooling community are having meetings with government officials in an attempt to educate them about the nature and success of home education as well as the rights of parents and children with regard to education.
Worldwide, there seems to be a trend where governments are seeking increasingly to control and regulate home education and this is often an infringement of the rights of children to receive education that is in their best interests and the rights of parents to protect their children's best interests.
"Parents have a prior right to choose the kind of education that shall be given to their children," (Article 26 part 3 of the Universal Declaration of Human Rights of 1948)

"Parents or guardians have the primary responsibility for the education of their children, … Parents have an inalienable right to choose the form of education which is best for their children…" (a White Paper on Education and Training (Notice 196 of 1995, Department of Education, South Africa)
In response to the threats to the freedom of home educators in South Africa (and worldwide), we encourage families to:
1. Get connected and support the national and provincial homeschooling organisations
2. Know the law and stand up for the right to educate your children at home
3. Overcome your fears and renew your mind
4. Exercise your faith in your Heavenly Father and pray for our nation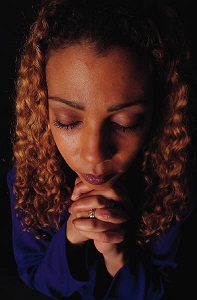 While we acknowledge that not all homeschoolers share our faith, those who are Bible believers, need to put their faith in our Heavenly Father and stand on the promises that are given in the Word. He promises that He will never leave us or forsake us, that He will give us strength, guidance, protection and supply all our needs.
We encourage you to pray and intercede for homeschooling freedom. We should also repent on behalf of the sins of our nation and pray for righteousness to prevail instead.
With that in mind, we have created a printable page with some topics and scriptures to pray through each day of the month.
Click on the link to download the page and feel free to share it with friends and family.
Daily Prayers for Home Educators