The Zulu People are a South African cultural group that rose to power and glory under the leadership of chief Shaka in the 19th century and now make up the largest population group in South Africa.
Background
History
Mzilikazi
Dingaan
Royal family
Homes
Clothing
Family
Crafts
Folklore & traditional beliefs
Cattle
Food
Language
Zulu animal names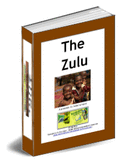 Use this printable file folder project pack to enhance your children's learning about the Zulu People throughout South African History.
Realizing that a traditional theme book project can be overwhelming for young children, even with help and supervision, we have created this printable file folder project that will supply you and your students with reference information, instructions as well as the printable templates to make a series of mini-booklets on each sub-topic.
A mini-book project enables children to work with small bits of information that can then be arranged onto a file folder to create a complete project.
This file folder project pack (or lapbook) is aimed at children aged 7-11 and can be adapted for multiple age levels, commonly found in the homeschooling situation. It could be used in a homeschool co-op group of a traditional school classroom situation too.
TEN BENEFITS OF USING A FILE FOLDER
1. A file folder project will enable your children to work on and review key information about the topic being studied.
2. It will develop auditory and comprehension skills as well as the ability to search, sift and find answers in a written text.
3. The hands-on activities are fun and develop fine motor skills.
4. Children love to learn by doing!
5. The creative possibilities are endless. Children can be creative and add their unique touch to their projects.
6. File folder projects are ideal for multi-level learning.
7. Project packs can be incorporated into unit studies, supplement topics of study or stand alone.
8. A project gives the children a reason for writing and drawing.
9. File folder projects are compact and easy to store.
10. A file folder project can become part of a child's portfolio of work and are a great tool for reviewing completed work.
BUY NOW
Shaka, who became king of the Zulu people in 1816, is the most well known Zulu king. He wielded total power over his tribe. He was born in 1787 to a young Zulu woman and the first son of chieftain Senzangakhona who fell under Dingaswayo's rule. He was sent away from his father's kraal for some of his younger years only to return when the first son to succeed to chief was found dead.
Shaka then proved himself in the iziCwe regiment under the command of Dingaswayo. When Shaka eventually became chief in 1816 he did so by forcibly taking the kingdom from his brother and rightful heir.
He began to build his tribe and alliances with smaller neighboring tribes so that later when Dingaswayo was murdered he took it upon himself to avenge his death and defeated Zwide, a chief of a powerful tribe from the North. He was finally able to do this in 1825 and thereafter he continued to build his followers and encourage allegiances between his tribe and other smaller groups.
Those tribes that did not join willingly were attacked and defeated then the remnants were added to Shaka's tribal community which caused large growth over the period ending 1826.
His interaction with the white traders set the stage for later white settlers and British expeditions into Zululand.
The most fierce battle that is remembered each year on the South African calendar is "The Battle Of Blood River". On 16 December 1838, 470 trekkers led by Andries Pretorius defeated 10 000 Zulu warriors on the banks of the Ncome River.
After Dingaan's horrific massacre of the Retief party the remaining Boers asked Andries Pretorius to leave the Cape and come to their aid so that they could overthrow Dingaan and settle in Natal. Pretorius covenanted with God that if He would help them gain victory he would build a church in His honor.
On the 15th of December the Voortrekkers crossed the Buffalo River knowing that the Zulu were on their way to attack. They set up camp and awaited the attack.
In the early morning of the 16th December 1838 the Trekkers saw approximately 10 000 Zulu warriors amassed around the settlement. The Trekkers then made another vow that if God would bring them the victory, they would keep this day as a Holy Day.
The first wave of Zulu warriors sent to attack the Boer laager was mowed down with rifle fire. They were also at a disadvantage due to the change in spear length under Dingaan's rule. This new spear was useful for close combat not for long distance throwing.
Women, children and servants helped to reload the rifles amidst the battle, semi-protected by the laager formation. After two hours and four waves of attack some of the Boers set out on horseback to engage with the Zulu's in closer combat. Many of the Zulus fled which provided the break in ranks that the Boers needed.
3 000 Zulu warriors were killed that day, the Ncome River ran red with blood, hence the name "Battle of Blood River".
TO PURCHASE THE ZULU PEOPLE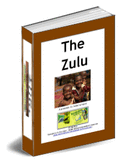 Buy The Zulu now and enjoy all the benefits of a file folder project.
For ZAR 75.00
---
Please pay by EFT
Email Wendy the title of the lapbook you wish to order at gaviny@mweb.co.za
Pay by EFT and select the option for the bank to send proof of payment to Wendy at the email address above
Bank details:
Nedbank, Hermanus branch
Branch code 134512
SAVINGS Account 2345020008 (you must select SAVINGS if your bank has CURRENT as the default account type or the payment might fail)
Acc holder WT Young T/A Footprints On Our Land
Reference Your name & Surname +LAP
---
September 2017 – The option to pay by Credit Card below has been declining payments that should be successful so please rather pay by EFT as explained above.
(For a quick currency conversion go to www.xe.com.)
Buy now using the Clickbank Secure Servers.



P.S. Start a stress-free hands-on learning adventure with your students now by investing in this printable ebook now.
P.P.S. Remember, the risk is all ours. You have nothing to lose as you have 8 weeks in which to request a 100% refund if The Zulu is not everything you expect it to be!
---
Click here for more South African Project Files