Two work-at-home moms
Wendy and Shirley
We are two experienced homeschooling work at home moms, Wendy and Shirley, the authors of Footprints on Our Land and owners of this South African Homeschool Curriculum site.
We are graduates from UNISA and Rhodes University, respectively, and since 2002 we have been working together to encourage and equip other homeschooling parents as they educate their children and prepare them for adult life.
We have been homeschooling since 1997 (more than 15 years) and are raising 4 and 6 children each. We are both avid readers and love researching parenting and homeschooling and we bring you our collective expertise in these areas.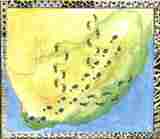 While homeschooling our own children, prior to 2002, we both realised we needed South African resources and that there was a general need for a home-grown literature-based curriculum in South Africa. When we discovered that we were both already working towards the same goal in 2002, Footprints on Our Land was born.
Creating a uniquely South African homeschool curriculum series has been an exciting and challenging project, which has enriched our lives and that of our children and now also the lives hundreds of other homeschooling families, both locally and abroad.
Our Footprints homeschooling products have been used in about 15 countries, which means that families and from all around the world have recognised the value of teaching their children about South Africa using our materials.
Our products have also been used private schools in Cape Town, Johannesburg and even in a school in the United States of America. An Australian school also wrote and commended us on our programme after an expatriate family showed them the materials their children had been using.
More and more home schooling families are enjoying South Africa's rich heritage through the curriculum that has emerged from our collaboration and they are raising up children that desire to make a difference in their country's future.
This website is a continuation of that vision to encourage and equip both South African families and families in other countries who choose a homeschooling lifestyle.
For more specific information about Shirley and Wendy, use these links.
Read more about The Benefits of a Footprints Curriculum.