Use the recommended resources on this page to learn more about South African artists and South African art as you and your children pursue art appreciation activities.
World renowned artist, Pablo Picasso proclaimed: "The purpose of art is washing the dust of daily life off our souls."

"We cannot measure the influence that one artist or another has on the child's sense of beauty, upon his power of seeing, as in a picture, the common sight of life …" ~ Charlotte Mason, Volume 1, Home Education
Art appreciation is simply facilitating the above! Simply allowing chidren to look at pictures (or other art forms) and enjoy their beauty and creativity. No teaching is required.
"Treat a work of art like a prince: let it speak to you first." ~ Arthur Schopenhauer
Some families enjoy keeping an Art Appreciation notebook in which they place prints or postcards of paintings along with a narration about each one. Some children enjoy replicating a famous work of art.
The South African Art Series for Children was created to help children learn more about South African artists and their work. Each of the booklets includes information about a particular artist, some images and descriptions of his/her work and some practical art activities for children in the style of the artist. They are aimed at children between the ages of 6-12  years.
You can buy them online at Takealot, download them instantly, print them and start using them with your children within minutes!  These booklets are available in either English or Afrikaans.
JH Pierneef
Jacob Hendrik Pierneef (later known as oom Henk) was was born in Pretoria and spent much of his childhood in the veld where he admired and collected rocks, plants and flowers. His artwork reveals his love of nature including sketches of rock formations, trees and mountains.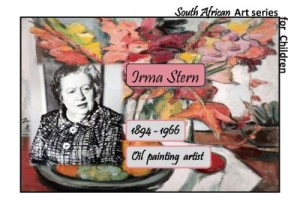 Irma Stern
As the child of wealthy German Jewish immigrants, Irma frequently travelled to Europe, where she studied art in Germany. Her works feature  exotic figures, portraits, lush landscapes and still lifes in a variety of media, ranging from oils and water colours to gouache and charcoal.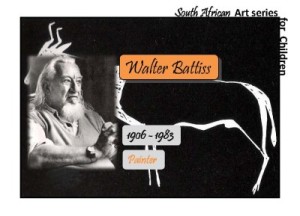 Walter Battiss
Often described as 'quirky', Battiss's art focuses on man and his environment. He was strongly influenced by San rock art and his friendship with Pablo Picasso in 1949 is said to have influenced his art too.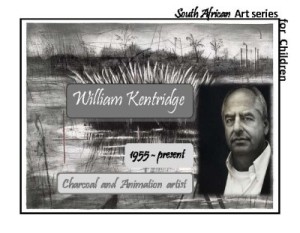 William Kentridge
This South African artist is renowned for his prints and drawings in black and white but also for animated films created by filming his artwork.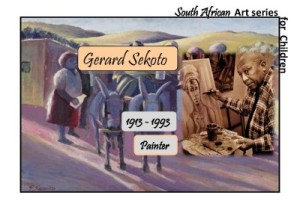 Gerard Sekoto
Sekoto gave up teaching to pursure a career in art at the age of 25. He is famous for his paintings of Sophiatown in Johannesburg, which was later demolished. He is recognised as the pioneer of urban black art and social realism.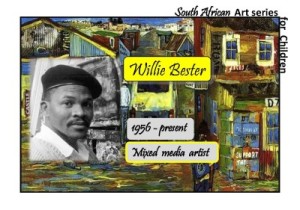 Willie Bester
Wille Bester has a unique art form whereby he incorporates recycled material into his paintings, assemblages and sculptures. He frequently uses his work to comment on political injustices.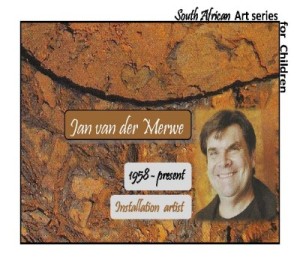 Jan van der Merwe
Jan van der Merwe considers himself an installation artist. He often takes 'junk' and turns it into "artefacts of our time". He accelerates the decaying process by adding layers of rust or burning the objects to charcoal, to create his unique archaeological relics.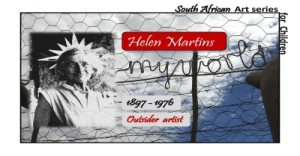 Helen Martins
Helen Martins' Owl House in Nieubethesda, is often cited as South Africa's finest example of outsider art. She used cement, glass, and wire to decorate the interior of her home and later build sculptures in her garden.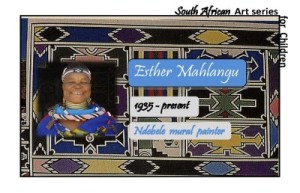 Esther Mahlangu
Esther Mahlangu is a South African Ndebele artist, who started painting decorations on houses at the age of ten with her mother and grandmother. She has now  dramatically changed the media and techniques from those traditionally used.
Dikuanga & Kruiper
Both San artists, Dikuagna's art features animals, insects, people and lively scenes as motives. Despite no formal training, Kruiper rose to fame as a fine artist, inspired by his cultural heritage and the desert he grew up in.