Reaching Higher

Reaching Higher is a free homeschool ezine to encourage and equip homeschoolers as you seek the best for your families.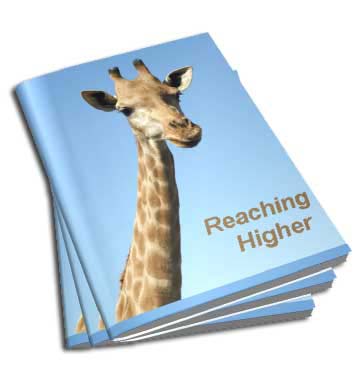 We know that homeschoolers feel a little 'different' to other families, especially here in Africa where we are still a rare, but rapidly multiplying breed!
Even in other countries, we, homeschoolers, stick out a bit from the other 'herds' as we strive for different outcomes for our little flock, than the rest.
Most of us are Christians and so we are reaching higher as we seek the Lord's instructions for building strong families and developing godly character in each individual's life. Even if you don't share our faith, you will surely benefit from good principles for shaping young lives!
Subscribe to our free, homeschool ezine, Reaching Higher, for the top tips and juiciest leaves of the homeschooling cyberforest!
In other words, we'll be bringing you the best advice, articles, websites and encouragement we can to help you as you raise your young ones and build your family legacy!
Subscribe now so you don't miss the freshest issue!
SUBSCRIBE TO REACHING HIGHER HOMESCHOOL EZINE
Recent Back Issues
October 2017 – Escaping the Homeschool Rat-race
August 2017 – Our Story: 15 Years of Footprints, Faith & Friendship
July 2017 – Why Homeschool Moms are Better Than Teachers
June 2017 – Raising Men and Women of Character
May 2017 – The Decline of Reading
April 2017 – Be Properly Informed about the Legalities of Homeschooling
March 2017 – A Tribute to Jenny Seed
February 2017 – Homeschooling for the Long Haul
January 2017 – Slow and Steady Wins
2016
December 2016 – Look Back with Thanksgiving
October 2016 – End of Year Prizegiving – Yes or No?
September 2016 – Lonely Homeschoolers
August 2016 – Young Entrepreneurs
July 2016 – Ideals vs Reality – Lessons of a Homeschool Mom
June 2016 – What I Wished I Knew When I Started Homeschooling
May 2016 – Tailor-made High School Homeschool Years
March 2016 – A Charlotte Mason Education for 21st Century Children
February 2016 – 5 Steps to Overcome Homeschool Struggles
January 2016 – 10 Tips for a Better Homeschool Year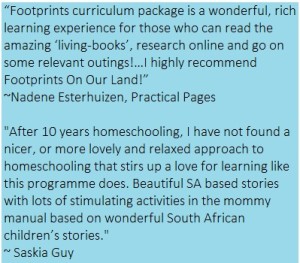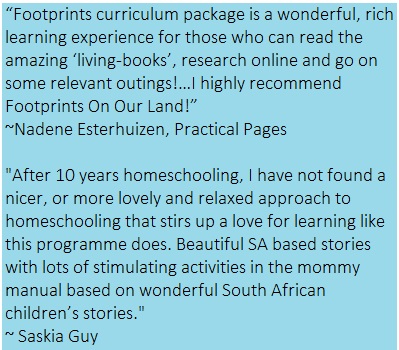 2015
December 2015 – 5 Reasons We Don't Give Gifts at Christmas
November 2015 – Are You the Homeschool Mom You Want to Be?
October 2015 – Choosing the Best Curriculum
September 2015 – How to Handle Bias
August 2015 – Am I Doing Enough? Homeschool Worries
July 2015 – Footprints – Endorsed but Not Accredited
June 2015 – The Importance of Housework for Children
May 2015 – Dealing with Entitlement
April 2015 – History and Homeschooling in the SA Media
March 2015 – "First Aid" for New Homeschoolers in SA
February 2015 – Entrepreneurship for Kids is Essential
January 2015 – What Voice to Listen To
2014
December 2014 – Recalibrate Your Focus
October 2014 – More Freedom Than School-at-Home
September 2014 – Letting Go of Old Paradigms
August 2014 – Free Software Courses
July 2014 – Destination Unknown?
June 2014 – The Importance of Support
May 2014 – 10 Tips for Worried Homeschool Moms
April 2014 – When Life Becomes Too Busy
March 2014 – First Homeschool Storm
February 2014 – Bad Homeschooling Weather
2013
November 2013 – Learning the Technology of the Future
October 2013 – Avoid the Comparison Trap
September 2013 – Eclectic Homeschooling
August 2013 – Your Bucket of Learning
July 2013 – Scenic Homeschooling