Many families are using private tutors to homeschool their children on their behalf.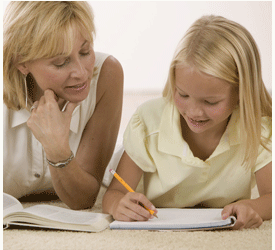 Please use the contact form to request our advertising rates if you would like to place an advert on this page.
Below is a selection of tutor services, in no particular order, to assist you in finding a suitable professional tuition in your area.
Is it legal to hire a tutor to homeschool your children?
By definition, homeschooling refers to education that happens in the child's own home, so yes, it is legal to hire someone else to teach your children. However, should you have any doubts, as legislation does change from time to time, then get professional legal advice for your situation.
Besides hiring a professional teacher, if you need help with homeschooling, consider asking in your homeschool support group. There are many homeschool parents who are experts at science, math, accounting, languages etc. who can help your child with extra lessons if necessary.
Also consider asking a high school homeschooler or homeschool graduate to help your child and give assistance, where necessary.

TUTOR SERVICES
Straight A Tutors is a team of experience tutors and teachers based in the Fourways area in Johannesburg. They offer individual, paired and group tutor sessions. All subjects and homework assistance.
The Association for Homeschooling has a list of tutors for hire in various subjects and areas of the country. Get listed or find assistance …http://www.tuisskolers.org
TutorMaster is a leading South African tutor/teacher agency, servicing all major cities and towns in the country. http://tutormaster.co.za/
Educate SA: Tuition services and private teaching jobs for maths, science and school subjects South Africa. Educate SA provides a meeting place for tutors looking for jobs and families …
www.educatesa.co.za/
Teachme2 offers private teaching programs for all kinds of tuition from high school homework tuition to university tuition to language tuition.
www.teachme2.com/
Penguin Tutoring is based in South Africa and provides tutoring for scholars by screened, professionals for one on one help. Home tuition is the best …
www.penguintutoring.co.za/
Hire Education provides tuition services for high school and primary school learners across South Africa including Johannesburg, Pretoria and Cape Town. …
www.hireeducation.co.za/
Achievers specialises in providing individualized and exceptional educational tutoring, offering extra lessons to primary and high school learners …
www.xtralessons.co.za/