Retha Viljoen shared the following story of her three children's success:
Ek was n remidiërende terapeut voordat ek begin tuisskool het. In 1996 was daar ń ma wat my gevra het om haar kinders-wat sy getuisskool het, te evalueer. Dit het my so geinspireer dat ek baie navorsing begin doen het daaroor.
Nou ja, ons oudste is nou 18 jaar oud en was nooit in enige skool nie.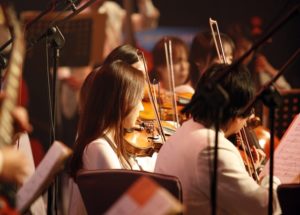 My drie kinders speel almal verskillende instrumente, maar doen ook sport! Ons glo aan ń geballanseerde leefstyl.
Dogter nommer 1 is ń violis. Sy is verlede jaar (2016) gekies as die Suid-Afrikaanse Nationale Jeugorkes se konsertmeester. Sy speel al vandat sy 15 jaar oud is in die Nationale Jeugorkes. Die meerderheid van die lede in die orkes is BMus. studente en ook al muskiekonderwysers! ( Ek kan dalk net noem en sê dat sy glad nie die enigste tuisskoler in die orkes is nie!! Elke jaar is daar n bietjie meer…)
Al 3 my kinders speel ook in die Johannesburgse Jeugorkes. Hier kry hulle geweldig baie blootstelling en het al saam met BAIE bekende kunstenaars gespeel. Selfs al "Grammy Award" kunstenaars. Daar is seker so twee hande vol tuisskolers in hierdie orkes.
Ons is ook betrokke by Simfonia Juventi wat die "ou" TOD Jeugorkes is.  Die orkes is gebasseer in Pretoria.Die lede doen streng oudisies en word gekies vanuit Gauteng, Noord-wes, Limpopo en Mpumulanga. Hierdie is ń hoërskool orkes. Al drie my kinders is al gekies toe hulle 12 jaar (gr7) was. My oudste dogter was al op 16 gekies as die konsertsmeester en is ook gekies om ń concerto saam met die orkes te speel in 2016.
Ek moet net sê dat 20% van hierdie orkes gewoonlik uit tuisskolers bestaan.
Ek weet jy het gevra vir "sukses -verhale" en dog toe dat ek vir jou van ons sal vertel!
Groete Retha Viljoen
Dogter 18, Dogter 16, Seun 17