Enjoy making some of these traditional South African recipes to add to your homeschool learning experience about South Africa.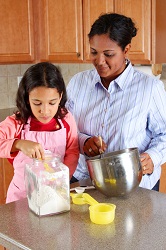 Using these tasty South African recipes, you can use the kitchen as part of your South African homeschool curriculum! These South African recipes are also great food for company or just everyday eating!
On this page – Traditional Boere Recipes (click to scroll down)
More pages with South African recipes:
South African Bread Recipes
Traditional Seafood Recipes
Cape Malay Recipes
South African Braai Recipes and
Traditional African Recipes

Sign up for seven weeks of everyday South African recipes in the meal planner PREPARED TO COOK. All the recipes were contributed by South African moms with growing families so all the ingredients are easy to find in local supermarkets!
When you do so, for 7 weeks, you will receive a weekly email providing you with a link to download the free menu planner of the week, including 6 recipes and a corresponding shopping list.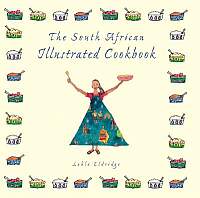 The Illustrated South African Cookbook is a handy South African recipe book to have on hand.
Recipes include traditional Xhosa, Zulu, English, Afrikaans, Cape Malay, Indian, Portuguese and contemporary South African dishes. The illustrator has captured various landmarks around South Africa to accompany the many local recipes she has garnered from cooks around the country.




TRADITIONAL BOERE RECIPES
The Boere were traditionally those people who formed part of the Great Trek from the Cape to the inland parts of South Africa. These people were the beginning of the Afrikaaner nation who account for about 6 million of the South African population.
Beskuit or Buttermilk Rusks
Ingredients
1l Buttermilk
1.5kg self raising flour or 10 cups flour and 8 tsp Baking Powder
3 ml Salt
10ml cream of tartar
430ml sugar
1 cup of mixed seeds (poppy, sunflower, linseed)
1 cup raisins (optional)
Method
Heat cream
Dissolve sugar into buttermilk
Add all the rest and mix well
Put into a large baking tray and bake at 180 for 1 hour
Let cool and cut into squares and separate.
Dry out in the oven for 3 – 6 hrs at 100 C.
Store in an airtight container.
Melktert or Milk tart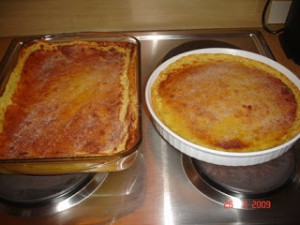 Ingredients
Puff pastry
pinch of salt
1 litre milk
I stick cinnamon
100ml sugar
100ml cake flour
Pinch salt
50 ml butter
4 eggs, separated
Ground cinnamon
Method
Preheat oven to 180 o C
Line a 225mm pie dish with some puff pastry. Pre bake.
Boil 1l milk and a cinnamon stick
In a heatproof bowl mix 100 ml sugar, 100 ml cake flour,
Add a pinch of salt.
Add the hot milk slowly to this mixture
Continue stirring over a low heat until the flour is cooked.
Remove from heat and add 50 ml of butter. Allow to cool.
Add 4 beaten egg yolks, and then fold in stiffly beaten whites.
Pour filling into pre-baked pastry shell.
Bake for 20 mins at 180o C, reduce heat to 160 o C for last 10 mins.
Cool, sprinkle with cinnamon and enjoy this traditional South African recipe.
Oxtail
Oxtail is tough so needs a long cooking time. In the days of old they did not have the ingredients that we use below. But then again they also had much more time to devote to culinary arts! This is a sweet oxtail recipe.
Ingredients
Oxtail (normally 2 packs for a larger family)
Packet of brown onion soup
1 can of Tab
2 cups tomato sauce
2 cups chutney
Method
Rub the oxtail in the soup.
Brown in oil.
Add other ingredients.
Bring to boil, reduce heat. Simmer for up to 6 hours.
Check to make sure that it is not cooking dry. If it is, add a little beef stock at a time.
Towards the end of the cooking you can add potatoes and carrots.
Serve on mielie pap or rice.
Frikkadels
Frikkadels are really just small meat balls. They can be sweetened with chutney or flavored with herbs or even tomato based using some tomato puree for a different twist.
Ingredients
500g Mince
Onion finely chopped
½ cup of oat bran
Salt & pepper
Worcestershire sauce
1 beaten egg
Method
Mix all together and shape into small balls. Fry in oil or bake in a hot oven. Serve with dipping sauces or on mashed potato.
Souttert (Savory tart)
This is a South African recipe handed down through generations.
Ingredients
3 Eggs
2 cups of milk
2 slices bread
2 cups grated cheese
1 grated onion
Parsley/mixed herbs
Use one of the following:
Tuna, bacon, mushrooms or asparagus with the juice to make 1 cup of liquid.
Method
Cut bread into squares. Mix all the ingredients together and pour into a greased dish. Sprinkle with a second cup of grated cheese. Cook for ½ hr at 180c.
Almond cake
Ingredients
125g butter
250ml sugar
2 eggs
½ tsp almond essence (vanilla also works well)
250ml cake flour
Almond slivers
Method
Cream butter and sugar. Add eggs and then flour. Do not over mix. Put into a greased 9" pie dish. Sprinkle almonds on top before baking. Bake for 30 minutes at 180oC. Sprinkle some castor sugar on top while still hot (optional).
Guava pie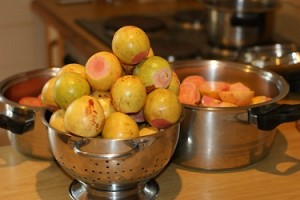 Ingredients
6 Tbsp butter
6 Tbsp Sugar
Creamed together
2 Eggs
2 cups f flour
1 tsp Baking Powder
1 punnet guavas baked for 20 mins with a little sugar and water.
Method
Spread ½ the dough in the bottom of a pie dish, put the warm guavas in and spread the other ½ of the dough over. Bake for 20mins at 180C. Serve with custard.
Koeksisters
This recipe makes about 2 dozen sticky gooey delicious Koeksisters – a tradition in many South African homes.
Ingredients
4 X 250 ml Cake Flour
2ml salt
20 ml Baking powder
75ml butter
15 ml sugar
2 eggs beaten
250ml cold water
Cooking oil
Syrup
4 X 250 ml sugar625 ml water1 large cinnamon stick
Method
Prepare syrup one day ahead by combining sugar and water at a low heat until dissolved. Add cinnamon stick and allow to simmer for 10 mins. Leave to cool and then refrigerate.
Make the pastry by sifting dry ingredients and cutting the butter in. Add the sugar and beaten eggs ad mix until it is a soft scone like dough. Chill.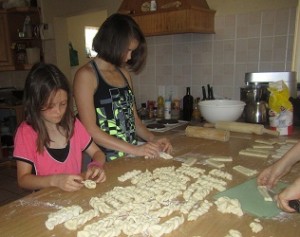 Roll out dough until about 7 mm thick. Cut into oblongs about 80 mm by 40 mm. Make two vertical cuts leaving a strip at one end still joined for about 10 mm. Plait the strips and secure with a little beaten egg.
Heat oil until very hot. Deep fry koeksisters until golden. Remove with a slotted spoon and dip into the chilled syrup. Remove with a second slotted spoon and leave to dry slightly.