Fly, Eagle, Fly! Language Arts Unit
Printable Language Arts Worksheets
A good book can touch our lives like a good friend. Fly, Eagle, Fly! by Christopher Gregorowski, is one that inspires us to achieve our highest ideals.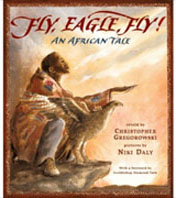 Within its pages are words that convey a message that we should all hold in our hearts forever – a message that challenges each of us to rise above any circumstances and to reach our full potential.


Fly, Eagle, Fly! Language Arts Unit
These printable language arts worksheets are intended to develop language arts skills while extending the time that students will spend with this literary 'friend' - this classic South African children's story.
It is aimed at learners between Grades 4-6 and it includes the language arts activities listed below.
Click here to preview some sample pages: SAMPLE PAGES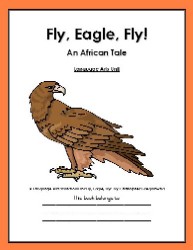 1. Pre-reading Activities –skimming and scanning for information
2. Background research
3. New vocabulary
4. Headings
5. Speech bubbles (dialogue)
6. Muddled sentences
7. Hidden words
8. Common nouns
9. Poetry
10. Idioms
11. Verbs
12. Adjectives
13. Letter
14. Bible verses – copywork
15. Birds of Prey - diagramming
16. Articles – using a and an
17. Creative writing
18. Punctuation
19. Write a prayer
20. Word find
21. Point form summary
22. Word search
23. Animal right poster
24. Book review
25. Crossword puzzle


For younger children, be sure to buy the Fly, Eagle, Fly! South African Unit Study in lapbook format.



HOW TO PROCEED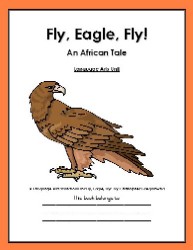 Buy the Fly, Eagle, Fly! Language Arts Unit now and within a few minutes you will be able to start using these printable language arts worksheets.
For just ZAR 27.00 you can download the ebook instantly.
Buy now using Clickbank's Secure Servers.





P.S. Remember, the risk is all ours. You have nothing to lose as you have 8 weeks in which to request a 100% refund if the Fly, Eagle, Fly! Language Arts Unit is not everything you expect it to be!



Printable Language Arts Worksheets l Home l Child Literature Lesson Plans l Afrikaans Language Programs l Contact l Homeschool FAQ's l Contact l Homeschool Business Course l Footprints FAQ's l Free Homeschool Curricula l Free Printables l Highschool l Articles l SA Homeschool Events l Free Ezine l Home school Help l Maths Programs l English Language Programs l Site Updates l High School l South African History Projects