Homeschooling in South Africa -

An Unconventional Educational Choice
Published in Education Southern Africa magazine, July 2011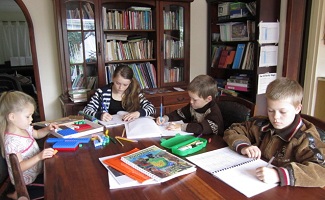 Although homeschooling in South Africa has been legal since 1994, the concept often elicits shocked reactions from those who are not familiar with this educational option.
The reasons why families choose to educate their children primarily at home, rather than in institutions are varied: concern about the low standard of education in certain schools, large classes, negative peer pressure and bad social influences, low matric pass rates, children with special needs, family values not supported by state curriculum, desire for greater family unity etc.
In other countries, research has shown that parents without professional teacher training, or even without a complete high school education, can successfully educate their children to grade 12. To do this, most families use curricula which are specifically designed for use in the home and which provide teaching tips, answer keys and in some cases, even instructional DVDs.
Homeschooling styles vary widely. While some families follow very rigid, school-like programmes, with text-book based learning, others take unstructured, delight-directed approaches and even practice "Unschooling" with great success. The majority falls somewhere in the middle of that continuum.
In March 2011, it was confirmed in the Pretoria High Court that the state curriculum is not binding on independent schools or parents who educate their children at home, so this freedom is acknowledged and is being upheld.
At home, children with special needs are reported to flourish, as they are educated in a loving emotionally-supportive environment and with the freedom to progress at their own pace, without labeling and without negative peer pressure.
Generally, homeschoolers don't need to write exams every term, as parents are able to monitor their children's progress on a daily basis. However, independent homeschool assessment testing services are available.
There are many testimonies of homeschool graduates who have entered South African universities and other tertiary institutions. Most of them have written school leaving exams, either via local distance learning institutes or they have passed international exams such as the Cambridge International Examinations or the American SATs.
Socially, research shows that homeschooled children interact with all age groups better than their school-going peers, whose social interactions are largely restricted to children of the same age, in the classroom scenario.
Homeschoolers do not isolate their children. In fact, they are usually very involved in extra-curricular activities, church, homeschool support groups or other carefully-chosen community events to ensure that their children develop good social skills.
Committing to educate one's children at home is not a light decision, but many homeschoolers feel misunderstood by misinformed onlookers, who think it is irresponsible to be unconventional.



More pages related to Homeschooling in South Africa:
Tips for Starting Homeschooling


Back to Homeschooling Articles

Homeschooling in South Africa l Home l Homeschoolers' Achievements l Child Literature Lesson Plans l Afrikaans Language Programs l Contact l Homeschool FAQ's l Contact l Footprints FAQ's l Free Homeschool Curricula l Free Printables l Highschool l Articles l SA Homeschool Events l Free Ezine l Home school Help l Maths Programs l English Language Programs l Site Updates l Footprints (age 7-12) l Preschool (age 3-6) l About Footprints l South African Children's Lit. Booklists l About Us l Site Updates l