High School Homeschool Curriculum
1900-2006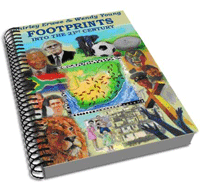 The new 2018 edition will be launched at the beginning of 2018. Contact Wendy at footprintsonourland@mweb.co.za for more information.
Since this programme is the sequel to Footprints On Our Land, we recommend that you first do that programme with your children, regardless of their age, before this one.
Footprints into the 21st Century is an original and uniquely South African high school homeschool unit study curriculum which presents teens with some of the best books that portray this era in the history of our country. It includes historical fiction, poetry, reference books as well as biographies of people who contributed to the events of the century.
Thought-provoking literature, which presents different points of view, has been carefully selected. In our selection process we sifted out the undesirable elements in books written for young adults. All of the books have been reviewed thoroughly and necessary areas of concern are highlighted.
This high school homeschool curriculum consists of eight sections. In order to complete it in one school year your child will need to cover two sections per term. The sections are:
Section 1: The Nation at War
Section 2: Unification and World War 1
Section 3: The Suffering Nation
Section 4:
Section 5: Apartheid Begins
Section 6: The Struggle
Section 7: The Democratic Nation
Section 8: Sports Heroes, Arts & Culture
Besides history and social studies, each section contains faith building, natural sciences and life skills projects.
The new 2018 includes an updated Life Skills section plus new Christian Apologetics course that will challenge teens on tough, contemporary issues.
Order Footprints high school homeschool curriculum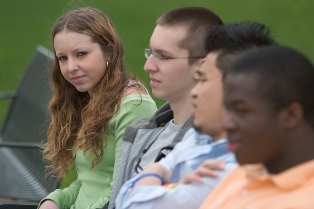 ESSENTIAL BOOKS
The essential books are compulsory and it is around these that the majority of the social studies assignments are centred.
There is also a list of additional books for each of the eight sections, which will broaden your perspective on the areas of study. Although these are not compulsory, they are highly recommended.
Through the literature in this high school homeschool curriculum you and your young adults will realise that South Africa is not without its problems. In fact, there are many issues of which we, as Christians, cannot be proud. However, we believe that we should take a stand for our faith and be should be willing to work for change and improvements at every level in our country.
Part of our vision is to inspire the next generation of leaders in South Africa to say, "I have always been glad to be South African but now I am proud to be South African."
Order Footprints high school homeschool curriculum



NATURAL SCIENCE
This high school homeschool curriculum includes a selection of literary works that will deepen your knowledge of South Africa's flora and fauna.
Each of the books selected for this subject covers a different biome in our country and here you will study zoology, geography, botany, biology, ecology and nature conservation.
We also give suggestions of videos and websites that will enhance your studies.
LIFESKILLS
This section includes challenging materials on issues such as finances, food and health choices, the use and abuse of technology, dating and relationships and more.
APOLOGETICS
The brand new material added to this section is presented in multi-media format and includes not only books, but internet articles, links to video teachings on YouTube, ebooks and audio interviews etc. It focuses on issues such as the Creation vs Evolution debate, finding Truth, evidence for Atheism vs evidence for trusting the reliability of the Bible, effective evangelism and other meaty topics which are relevant for young adults in the 21st century.
LANGUAGE
We favour Charlotte Mason's method of helping students to acquire knowledge. This method requires connecting students with great thinkers and authors, and then removing ourselves from the scene in order to enable them to develop a relationship with the subject of study.
The Footprints high school homeschool curriculum will challenge your highschooler to think deeply on the issues raised by the various authors and to share their thoughts with you, their parents, with their friends and to record them in a journal them too.
Order Footprints high school homeschool curriculum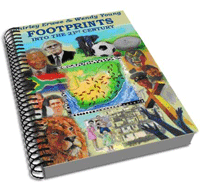 SUMMARY
The Footprints into the 21st Century high school homeschool curriculum includes the following:
1. A full scope and sequence on South Africa's history from the South African War until present.
2. Lesson plans based on quality literature, mainly by South African authors, but also including authors from elsewhere.
3. Study themes incorporating: History and Social Studies, Natural Sciences, which includes creation science, biology, ecology, geography and conservation issues.
4. Journaling assignments related to all areas of study in a Charlotte Mason-style programme, requiring written narration, nature study, poetry, journaling, research projects and more.
5. A Faith Building section, which addresses pertinent issues relating to the Christian faith. (optional)
6. The highschool curriculum also incorporates Financial Education, Life Skills and Christian Apologetics.
---
ORDERING FOOTPRINTS INTO THE C21
Use the order form which follows if you have any questions or if you would like to place an order.
Please note that with this programme, we only supply the essential 'reference pack' containing the core books which are used throughout the year. It is up to you to source the readers for each section, either from your library or (online) bookstores.
Please note that the order form containing the non-refundable booklist will be supplied to you when you purchase the Reference Pack.
Once you have submitted the form below, an auto-responder will email you the ordering information that you need and you can correspond with us by email thereafter.
Your details will be kept confidential.
The complete Footprints into 21st Century package will cost about
R6 500.00 if you choose to buy all the readers and do not use your library.
CONTACT FOOTPRINTS INTO THE 21st CENTURY