Use this printable file folder project for your study of the French Huguenots at the Cape. It includes information on the following topics:
Refuge at the Cape
Colonists that made a difference
The population at the Cape
Help for the Huguenots
Dissatisfaction among the Huguenots
Who were the Huguenots?
Huguenot farm names
French words that you already know
French titles and etiquette
What happened to French in South Africa?
The Huguenot Monument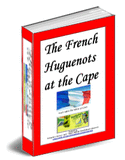 Use this printable file folder project to enhance your children's learning about the French Huguenots and their contribution at the Cape in the 17th and 18th centuries.
Since traditional theme book projects can be overwhelming for young children, even with help and supervision, we have created this printable file folder project that will supply you and your students with reference information, instructions as well as the printable templates to make a series of mini-booklets on each sub-topic.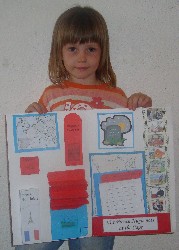 A mini-book project enables children to work with small bits of information that can then be arranged onto a file folder to create a complete project.
This file folder project pack (or lapbook) is aimed at children aged 7-11 and can be adapted for multiple age levels, commonly found in the homeschooling situation. It could be used in a homeschool co-op group of a traditional school classroom situation too.
TEN BENEFITS OF USING A FILE FOLDER
1. A file folder project will enable your children to work on and review key information about the topic being studied.
2. It will develop auditory and comprehension skills as well as the ability to search, sift and find answers in a written text.
3. The hands-on activities are fun and develop fine motor skills.
4. Children love to learn by doing!
5. The creative possibilities are endless. Children can be creative and add their unique touch to their projects.
6. File folder projects are ideal for multi-level learning.
7. Project packs can be incorporated into unit studies, supplement topics of study or stand alone.
8. A project gives the children a reason for writing and drawing.
9. File folder projects are compact and easy to store.
10. A file folder project can become part of a child's portfolio of work and are a great tool for reviewing completed work.
BUY NOW
SAMPLE SNIPPET FROM THE EBOOK
Huguenot persecution in France
Before Martin Luther pinned up his 95 protests on the church door in Wittenberg in 1517, all Christians had belonged to one church, the Catholic Church.
After that a movement called the Reformation began, during which time many reformed churches were established.
The members of these became known as Protestants, because they protested against certain practices in the Catholic Church.
In France, the Protestants became known as Huguenots.
For some time, they were allowed to worship freely, but they began to be harassed and in 1685, when their rights were taken away, many of them fled from France to other countries like England, Holland, Prussia and America.
Locate France on your map of Europe. You should already know where Holland is.
The Huguenots' arrival at the Cape
The Voorschoten was the first ship carrying 22 refugees to leave Holland, on 31 December 1687. Due to storm damage, she put in at Saldanha Bay on 13 April 1688 and a small yacht, the Jupiter, later carried the French settlers to Cape Town.
The other ships were the Borssenburg, the Oosterland, Berg China, Zuid Beveland, the Schelde, Wapen van Alkmaar, Vosmaar and Driebergen.
Today there are still passenger lists of the above-mentioned vessels. At least three babies were recorded as being born aboard ship.
Click here for a printable sample of one of our file folder projects.
TO PURCHASE THE FRENCH HUGUENOT FILE FOLDER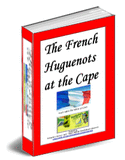 Buy The French Huguenots at the Cape now and enjoy all the benefits of a file folder project.
ZAR 75.00
---
Please pay by EFT
Email Wendy the title of the lapbook you wish to order at gaviny@mweb.co.za
Pay by EFT and select the option for the bank to send proof of payment to Wendy at the email address above
Bank details:
Nedbank, Hermanus branch
Branch code 134512
SAVINGS Account 2345020008 (you must select SAVINGS if your bank has CURRENT as the default account type or the payment might fail)
Acc holder WT Young T/A Footprints On Our Land
Reference Your name & Surname +LAP
---
September 2017 – The option to pay by Credit Card below has been declining payments that should be successful so please rather pay by EFT as explained above.
(For a quick currency conversion go to www.xe.com.)
Buy now using the Clickbank Secure Servers.


P.S. Start a stress-free hands-on learning adventure with your students now by investing in this printable ebook now.
P.P.S. Remember, the risk is all ours. You have nothing to lose as you have 8 weeks in which to request a 100% refund if The Dutch at the Cape is not everything you expect it to be!
---
Click here for more
South African History File Folder Projects